What To Look For When Choosing A Baby Food Maker
Choosing a baby food maker and blender can be quite challenging since it needs to produce the smoothest blending consistency. The blender must process fruits, vegetables, and other ingredients without leaving any huge chunks of meals.
Below are some factors you should consider before buying the food maker and blender for your little one:
Free of Harmful Chemicals
Your baby's health should be the top priority when buying a blender or meal maker. Ensure that the product you want to buy is free of harmful chemicals such as lead, phthalate, BPS, and BPA. Moreover, buy only from a trusted manufacturer that has been approved by the Food and Drugs Administration (FDA).
Easy to Clean
Since you're going to use the blender or food maker for a few months, it's vital that cleaning it won't be difficult. Aside from being dishwasher safe, the product must also be easy to assemble and disassemble. You can again go for a unit with a self-cleaning feature.
Ergonomic Design
Your baby food maker or blender will always be out of the cabinet for a long time. Hence, it needs to have an ergonomic design that won't consume too much countertop space. However, if you have ample room in your kitchen, this won't be much of an issue.
Container Volume
Preparing baby food several times a day can be time-consuming at times. Hence, you want to create your baby's meals in as few batches as possible. Therefore, you need a blender with a massive pitcher so you can prepare your baby's meal for the whole day in just one go.
Versatility
Finally, you want a baby food maker that can do multiple tasks such as steaming. This way, you won't have to transfer the baby meal you processed into other storage containers. At the same time, you might get more value for your money since you won't have to buy an additional meal station for the job.
Best Baby Food Makers Comparison
Image
PRODUCT/ Features
Rating

Top Pick

Beaba BabycookMotor Power: 500 watts
Container: 36 oz bowl
Speed Settings: One speed

Read Full Review

Highest Rating

Evla's Baby Food Maker Motor Power: 130 watts
Container: 24 oz stirring cup
Speed Settings: One speed

Read Full Review

Trusted Pick

Magic Baby Bullet Motor Power:200 watts
Container: 12 oz stirring cup
Speed Settings: One speed

Read Full Review

Budget Pick

QOOC 4-in-1Motor Power: 200 watts
Container: 35 oz shatterproof jar
Speed Settings: One speed

Read Full Review

Immersion Pick

Sage Spoonfuls Baby Food Motor Power: 250 watts
Container: 30 oz food processor bowl
Speed Settings: Two speeds

Read Full Review
Whale's Love Motor Power: 130 watts
Container: 34 oz stirring bowl
Speed Settings: One speed

Read Full Review
Elechomes Baby Food BlenderMotor Power:150 watts
Container: 16 oz stirring cup
Speed Settings: One speed

Read Full Review
Home Baby Food Blender ChopperMotor Power: 200 watts
Container: 20 oz stirring cup
Speed Settings: One speed

Read Full Review
Cuisinart Baby Food BlenderMotor Power: 400 watts
Container: 32 oz bowl
Speed Settings: One speed

Read Full Review
NutriChef Digital Baby Food MakerMotor Power:430 watts
Container: 10 oz pitcher
Speed Settings: One speed

Read Full Review
Best Blender for Baby Food
1. Beaba Babycook (Top Pick)
This versatile 4-in-1 baby food maker has four essential functions: steamer, defroster, bottle warmer, and blender. The BEABA Babycook has a 500-watt motor and can make up to 4.5 cups (36 ounces) of baby food in one go. Aside from processing fruits and vegetables, this machine can also prepare fish and meat in about 15 minutes.
Its console features a single-touch open and close button that allows one-handed operation. The best blender for baby food maker also comes with an auto-off and a timer with a distinct alarm that sounds off when cooking is done.
This 11-piece blender set is dishwasher safe and easy to clean. Its plastic components are Phthalate and BPA-free. Included in this multi-functional cooker are a spatula, mix lid, girdle, and a recipe booklet.
Peek-A-Boo holding company is the manufacturer behind the Beaba brand. They have been acquiring other baby-related brands since 20212 and have since expanded into the infant and toddler industry.
However, the pitcher's grayish color is a bit on the dark side and can obscure your vision of the container while cleaning. Its rubber seal is a bit loose and can fall off once in a while. The blender's bottom part is also susceptible to leaks. Simply put, it's the best all in one baby meal maker in the market.
PROS
+ Powerful motor and sharp blades combo
+ Can prepare baby food in minutes
+ Plastic components are free from toxic materials
+ It has an automatic off function with a sound alarm
+ Lightweight and portable

CONS
– Prone to leakage, especially at the bottom
– Loose rubber seal
– A bit expensive.

2. Evla's Baby Food Maker (Highest Rating)
Evla's products are known for their excellent quality and functionality. This baby food maker is a multifunction appliance that can be used as a steam, blend, defrost, and reheat your child's food. It has a quiet 130 -att motor with a 300-watt heating element, which allows it to handle all sorts of ingredients.
The food maker's modern design can fit into most kitchen worktops. Its control board features a touch screen monitor and timer. You also get six 4 oz food pouches where you can store your baby's food. However, these pouches are not microwavable and are mainly used for storing food in the fridge.
Meanwhile, its 24 oz stirring cup is made from non-toxic plastic-free from lead, BPA, and phthalate. The container comes with a leak-proof seal and spill-proof lid. You can use auto and manual blend options to get the best consistency for your baby's meal station. This best baby food blender is available in white and gray colors.
However, Evla's baby food maker's cooking time is quite long, at 30 to 35 minutes. Additionally, the bowl's lid tends to open back, which can be a nuance at times. This baby food steamer has a one-year limited warranty.
PROS
+ Decently powerful motor
+ Large 24 oz stirring cup
+ Easy to use self-cleaning mechanism
+ Can blend automatically or manually
+ Garnered many positive reviews online

CONS
– Slow cooking time
– Cumbersome bowl lid
– Short warranty period.

3. Magic Baby Bullet (Trusted Pick)
If you want your baby food cooked fast without compromising its blending consistency, then look no further than the Magic Baby Bullet. This Magic Bullet baby food maker can prepare your infant's food in as little as five minutes. It's also lightweight at just 1.5 pounds.
The baby food maker's design is reminiscent of the best NutriBullet blender models. Unsurprisingly, the Magic Baby Bullet is also manufactured by the same company behind the NutriBullet brand. The pitcher has a large mouth, which allows easy manual cleaning.
This Magic Bullet mini blender also comes with two blade options– your usual blending blade and a milling blade. Its 200-watt motor can easily make purees and soups. The Baby Bullet batch bowl can accommodate up to eight storage cups. The dishwasher safe jar is also free from phthalate, BPA, and other toxic chemicals.
Its control board features a one-speed function. Magic Bullet also includes a spatula and a silicone batch tray, which can store up to 12 ounces of puree. These containers also have six-date dial storage, which can help you keep track of the food expiry inside.
All containers, including the pitcher, also have a "smiley" sticker on their body. The Magic Bullet baby food has a one year warranty.
PROS
+ Largemouth allows easy transfer of ingredients
+ Lightweight and very portable
+ Brawny motor
+ Includes silicone batch tray
+ Date Dial storage keeps track of spoilage

CONS
– Slightly more expensive
– Short warranty period
– Dull stainless steel blades.

4. QOOC 4-in-1 (Budget Pick)
This versatile food maker is one of the best multifunction mini blenders in the market. The QOOC 4-in-1 machine can steam, blend, defrost, and reheat in less than 15 minutes. Thanks to its compact design, it doesn't take much of your kitchen's tabletop space. It's also easy to store in any modern cabinet and be taken out when you need it.
The QOOC 4-in-1 baby food maker uses a quiet 200-watt motor that can process even hard ingredients such as nuts. This machine can also grind produce and fruits by just pulsing every 5 seconds.
Moreover, the blender comes with a 35 oz shatterproof jar free from lead, phthalate, BPA, and other toxic chemicals. The baby meal station food maker also features a non-slip base that prevents any vibration from spilling the contents. Its console features an on/off dial button that lets you choose between steaming, reheating, and blending the ingredients. The unit is also user friendly and easy to clean.
Additionally, the machine has an auto shut-off feature that sends out an alarm signal when it has finished cooking.
PROS
+ It can be operated with just one hand
+ Auto shut-off and alarms when it's done cookin
+ Very quiet and easy to use
+ It does not contain any harmful plastic components
+ Cooks your baby's sustenance in minutes

CONS
– Some components are of low quality
– Short power cord
– Limited one year warranty.

5. Sage Spoonfuls Baby Food (Immersion Pick)
If you prefer an immersion blender, then the Sage Spoonfuls Baby Food is the perfect choice for you. This 2-in-1 food system is great for making baby puree and a few toddlers and adult foods. You can prepare any baby food-on-the-go in just 10 minutes or less. Additionally, it also comes with a food processor attachment, which you can use.
The Sage Spoonfuls immersion hand blender has a 250-watt motor that can prepare blended poultry, buts, meat, veggies, beans, and fruit. Its blending time for most soft produce is only around 15-30 seconds. You can also prepare foodstuff in bulk and store it in the fridge for future use.
One of the advantages of an immersion blender is that you can use it directly to any type of bowls in your home. This meal station food maker has a comfortable handle that gives you a comfortable grip while operating the unit. Furthermore, the blender is quite long and can reach even deep containers.
The machine also has a straightforward operation and can be used to make ice cream. It only has a one-speed button, which also serves as the pulse function. Most of its components are dishwasher safe and free from toxic chemicals. It's also certified by the FDA and has a one year warranty period.
PROS
+ Inexpensive and easy to use
+ Produces high-quality puree
+ Easy to clean
+ Can process several types of sustenance
+ Versatile and easy to store

CONS
– Doesn't cook or reheat
– Short one year warranty
– Unsealed blending bowl.

6. Whale's Love
At first glance, you would think that the Whale's Love baby food processor is a coffee maker. But, it's a machine designed for making smooth purees for your little one. This number one baby food maker not only blends but also steams, grinds, and mills ingredients. You can also use this baby food mill to warm your baby's milk in just minutes.
Its ultra-modern and compact design allows it to adapt to most kitchen tops. The unit's control board features an LCD screen that has eight function buttons. Equipped with a 34 oz capacity blending bowl, it can process ingredients such as fish, chicken, fruits, and vegetables.
Whale's Love blender also has sharp S-shaped blades that can rotate up to 18,000 RPMs. Moreover, this unit has a seamless sealing ring, which prevents leaks from the unit's bottom. Most of its accessories are dishwasher safe and easy to remove.
The high-speed copper motor is rated at 130 watts for blending and 400 watts for heating. Meanwhile, it's base panel is very stable thanks to rubber suction cups on its feet. The water reservoir also has a self-cleaning feature, while its pitchers are made from toxic-free materials.
Furthermore, the manufacturer also threw in a heating rack and spatula to help with baby food preparation.
PROS
+ Modern and compact design
+ Powerful heating element
+ Stable base thanks to suction cups
+ LCD control panel
+ Fast spinning sharp blades

CONS
– Plastic container stains
– Short warranty period
– Blending consistency is a bit off.

7. Elechomes Baby Food Blender
This versatile baby food blends processor has eight functions that can prepare healthy baby foods. It can defrost, mix, reheat, steam and blend your infant's food in just 15 minutes. The machine also has a two-layer basket design that allows you to cook different sustenance simultaneously.
The console features a stirring button and a timer dial that sounds when the current cooking process is over. Additionally, there is a safety switch in the middle of the water tank and a BPA-free 16 oz stirring cup. It also has a low water protection sensor that automatically shuts down the machine when only a few liquids are left.
Elechomes Baby Food Steamer and Blender has a decent motor with 150-watt blending power. You can also grind hard ingredients by using the pulse function every six seconds. However, you need to use distilled water to ensure that the metallic components won't rust.
Moreover, the blades are also removable, allowing you to clean the inside much more effortless. The processing jar also includes a storage lid so you can take it anywhere while storing your baby's meals.
PROS
+ Easy to use low water sensor
+ Multiple functions such as grinder and reheater
+ Lightweight and compact design
+ Safety switch for your child's protection
+ Has a timer to keep track of your cooking

CONS
– It doesn't have an LED display
– Small pitcher capacity
– Can only use distilled water.

8. Home Baby Food Blender Chopper
The Home Baby Food Blender looks nothing like the baby food makers on the list. It has a contoured design reminiscent of a professional cuisine processor, albeit a baby blue and gray fascia.
Aside from its excellent aesthetics, this blender is known for its multifunctionality. This unit can puree, chop, steam, and blend. It can even act as a bottle warmer. Its 20 oz Tritan stirring cup is free from toxic materials. Additionally, this mini baby food maker can self-clean and disinfect itself, saving you a lot of time.
Thanks to its 200-watt motor, it can process anything from soft produce to hard ingredients. Meanwhile, its touch control panel features multiple function buttons and a timer. The Home Baby Food Blender also has an overheat protection that activates when the water tank level is below the necessary levels.
This steamer and blender has two safety switches that prevent the machine from operating when the cover or the stirring cup is out of place.
However, the Home Baby Food is a bit pricey compared to other products on this list. Additionally, the locking mechanism can be difficult to reassemble and can be a deterrent for people with arthritis.
PROS
+ Eye-catching design and color
+ It has a touch screen control panel
+ Handy overheat protection
+ Brawny motor with the heating element
+ Dual safety switches

CONS
– More expensive
– Short power cord
– Complicated locking mechanism.

9. Cuisinart Baby Food Blenders
The Cuisinart Baby Food Blender has a boxy body, but don't let its looks fool you. What it lacks in aesthetics, it makes up for with its versatility. This multifunction steamer and blender can also chop, puree, warm, and steam your infant's sustenance.
Its top-rated 400-watt motor has one of the highest outputs on our list. This feature can efficiently process different kinds of ingredients such as meat, fish, and produce. This machine also has a blade lock system that helps keep the blade in place while pouring the pitcher contents.
Moreover, the unit has an automatic safety feature wherein it turns off the machine when the water level is low. Its 32 oz BPA-free bowl can fill up to four storage cups of baby food. The bowl also has a tight seal that prevents spills while improving the steaming process.
Its control panel features a dial control with an LED indicator. Meanwhile, the handle provides a comfortable grip. The product also includes a measuring cup, bottle warmer adapter ring, recipe book, and spatula.
PROS
+ Brawny motor coupled with sharp blades
+ Large 32 oz plastic pitcher
+ Plastic components are toxic free
+ A nifty blade lock system
+ Easy to use dial control

CONS
– It only has a one-speed option
– A bit bulkier and hard to store
– Slightly more expensive.

10. NutriChef Digital Baby Food Maker
This 2-in-1 machine functions as a pureeing blender and steamer. It has a powerful 430-watt motor that allows its blades to rotate up to 3,000 RPM. You can also use its soft touch pulse button to control the blending consistency.
You can also adjust the settings of its cook timer for up to half an hour. Meanwhile, the pitcher has a capacity of about 10 oz. You can create a delicious puree, chop vegetables, and even mash potatoes using the NutriChef baby food maker.
The plastic housing is rigid and made from toxic free ABS plastic. Meanwhile, the stainless steel blades are quite sharp and allow accurate blending. At the top of the machine is a dial control and an on/off button.
All of the plastic components are also dishwasher safe and easy to clean. Its blades and other small parts are easy to disassemble. This product also includes a blending cup, food processor glass bowl, and steam basket.
PROS
+ Powerful motor and sharp blades combination
+ Modern and ergonomic design
+ Easy to use and clean
+ Soft-touch pulse button
+ Toxic-free plastic components

CONS
– Small pitcher and water reservoir
– The bottom part is prone to leaking
– Short warranty period.

Why Should You Use a Blender for Making Baby Food?
As you know, babies need to eat smooth sustenance because it's tough for them to eat solid food. Fortunately, there are tons of blenders made explicitly for making baby food. Using a blender preserves most of the nutrition of the food you put on the machine.
Aside from making smooth textured food, blenders can also save a significant amount of money. Creating homespun baby food from local produce is often cheaper than buying commercial baby meals.
Finally, feeding your baby with blended foods and purees can help your child transition into adult food.
Benefits Of Making Your Own Baby Food
Making your baby food has certain benefits that your infant or toddler won't get from commercial baby meals, such as:
Pureeing fresh produce gives more vitamins and nutrients to your infant without the use of any preservatives. Homemade baby food also doesn't have to be cooked at high temperatures like jarred meals, which retains more of its nutrition and taste.
Preparing baby meals from fresh produce offers more options for your infant. Hence, you don't have to feed your baby the same pureed carrots and peas every day. You can even go with soft fruits such as melons and avocados, which you won't find in any commercial baby food.
Making your infant's meal can also save you a significant amount of money. Purchasing fresh fruits and other produce to puree is much cheaper than buying them in a jar.
Your baby will get introduced much earlier to the same meal that the rest of the family members eat– only it's pureed.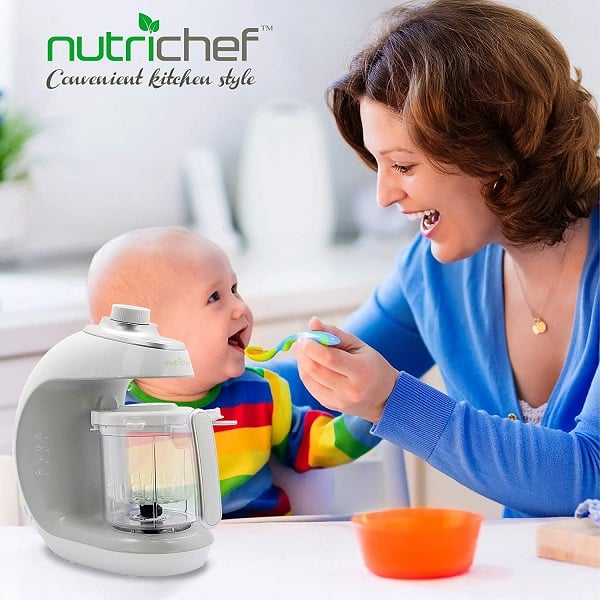 Two Types of Baby Food You Can Make at Home
There are several ways you can prepare your baby's food. However, the most common type of baby food you can prepare falls into these two types:
Raw
Meaning, you blend or process the food without having to cook it. However, you still need to peel vegetables or root crops, like sweet potatoes, since their skin can always be tough to chew for your baby. After which, you blend it under medium speed until there are no chunks.
Then, you can store the baby meal in a container and put it in the fridge. Make sure that it is consumed within the next three days.
Steamed
This cooking method is best when you want to make a fruit or vegetable softer. To do this, simply peel the ingredients first, then cut them into small slices. Next, put it on a steaming basket and place it on top of boiling water. Steaming time varies depending on the ingredient.
To check if it's already cooked, you can stab it with a fork. When it's tender enough, put it out of the basket and let it cool for 10-15 minutes. Then, blend it until smooth using the medium speed settings. Let it cool off before storing it in your fridge.
FAQ Best Baby Food Maker and Blender in 2021
Can you use a normal blender for baby food?
Yes, you can still use a regular blender to make a baby meal. However, they are mostly limited to processing raw food since it doesn't have a steamer like baby food makers. Most lenders also don't have a heating element, which means you can't reheat your refrigerated baby meal there.
Is a blender or food processor better for making baby food?
It depends on what type of food you are making for your infant. Blenders tend to work better with making liquid-like foods like a puree. On the other hand, food processors are great for dealing with solid foods. Consequently, there are also meal processors specifically designed to make baby food.
Is blending baby food bad?
Not entirely. While mothers' milk is best for babies during their initial months, they eventually have to transition into more solid foods. A homemade baby meal processed via blending is good because parents know what ingredients are in that food. It's also a better alternative to pre-packaged foods, which could have preservatives.
Can I use a food processor to make baby food?
Yes, you can use a food processor to prepare your infant's food. However, you need to make sure that it's free of toxic chemicals such as BPA and lead. Additionally, the FDA and other health-related agencies must approve the food processor to ensure that it's safe for your baby.
Is it worth it to make your baby food?
Most of the time, making homemade baby food is more practical than buying commercial baby food. Some fruits and vegetables are also cheap and readily available on the market. Moreover, there are plenty of flavors and nutritional value options when you make your baby food.
Our Verdict
You must feed your baby foods that are not just nutritious but also easy to chew and absorb. The best baby food makers can help you prepare homemade foods for your infant without taking too much of your precious time.