What Are Chia Seeds?
Chia seeds are making quite a splash in the health and nutrition world these days with good reason. Known as nature's superfood, chia seeds are loaded with vitamins, minerals, and essential fatty acids. They're also high in dietary fiber, making them ideal for gluten-free diets!
Chia seeds can be eaten raw or cooked, used as an egg substitute when baking, sprinkled on salads or oatmeal, or added to smoothies. They even make an excellent topping for yogurt. The best part is that they have a mild nutty flavor that won't overpower your favorite recipes!
No matter how you choose to use them, chia seeds provide a nutritional punch and may help control blood sugar levels, reduce inflammation, and boost gut health. So why not give them a try?
How Much Chia Seeds In Smoothies
Chia seeds have become increasingly popular in smoothies to add texture and nutritional value, as these tiny seeds are packed with powerful nutrients! Whether you're a smoothie lover or just looking to find ways to get more fiber and Omega-3s in your diet, chia seeds are the perfect addition. Just one tablespoon of chia seeds contains fiber, protein, and antioxidants, plus essential minerals like calcium, magnesium, iron, and zinc.
Chia seed smoothies also offer great thickening qualities – if you're looking for some extra 'zing' in your smoothie recipe, chia is a great way to do it! Plus, adding chia provides a nutritious boost that helps keep your body healthy. Add just one or two tablespoons of chia seeds in your blender for a deliciously creamy smoothie full of important nutrients that will keep you going all day long. There are various blenders on the market and get one of the best smoothie blenders for a perfect blend.
When soaked in liquid the chia absorbs up to 10 times its weight in water giving the smoothie more richness and body. But to get the full effect it's important not to go overboard when adding chia! A tablespoon of chia seeds contains roughly 69 calories and 4.7 grams of fiber so too many chia seeds can quickly add up to the calorie count. Moderation is key when it comes to incorporating these tiny nutrient powerhouses into your smoothies!
How To Add Chia Seeds To Smoothies
Whether you're an avid smoothie fan or a newcomer to the art of making it, adding chia seeds is a great way to add some additional thickening power and nutrition as well as keeping it fresh for longer. Chia seeds are full of Omega-3 fatty acids, antioxidants, plus protein and dietary fiber which can provide many important benefits to your health. Adding chia to your smoothie mix is quite simple.
You need to do is blend about 1 tablespoon of chia in with your pre-blended smoothie.
The addition provides a slightly nutty flavor and creamy texture that will make each sip even more enjoyable than before!
For an added nutritional boost, go ahead and add some extra health food toppings – such as cacao powder, nuts, dried fruits, or honey – after blending.
With a few simple twists to your typical smoothie routine, you'll soon find that adding chia seeds into the mix just may be one of the best decisions you've ever made!
The Benefits Of Adding Chia Seeds To Your Smoothies:
Chia seeds are a nutritional powerhouse, packed with vitamins and minerals. They can help you feel fuller for longer due to their high fiber content and anti-inflammatory properties. Adding chia seeds to your smoothies is a great way to get the amazing benefits of these nutritiously powerful little seeds.
Provide Vitamins & Minerals
Chia seed smoothie not only does provide essential vitamins and minerals like calcium, magnesium, omega-3s, and fiber, but it also offers additional health benefits such as improving digestive health, promoting weight loss, and balancing blood sugar levels. The omega-3 fatty acids in chia can help boost your brain power as well!
Improve The Texture Of Your Drink
Additionally, adding chia to your smoothies will also improve the texture of your drink and make it more satisfying. Chia is a great addition to any smoothie, no matter what type you're making. In addition, with chia seeds smoothies last longer.
Boost Energy Levels
If you add pre soaked chia seeds or raw to your smoothies regularly, you'll be doing even more good for your body since the antioxidants that chia seeds contain help to fight inflammation in the body while boosting energy levels.
Versatile
Chia seeds are also incredibly versatile – you can toss them in smoothies or oatmeal, sprinkle them on salads or yogurt, or just eat them straight out of the bag as a healthy snack!
To get the most benefits out of adding chia, start with one tablespoon per smoothie and work your way up from there. This will give you the right balance of nutrition and taste without going overboard. As with any ingredient, make sure to listen to your body and adjust the amount of chia accordingly!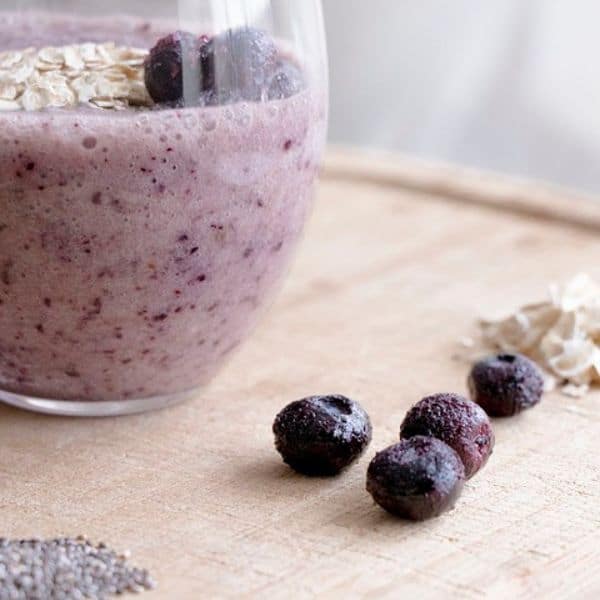 Healthy Chia Seed Smoothie Recipe:
Trying healthy, delicious chia smoothie recipes are the easiest and tastiest ways to enjoy the wonderful benefits of chia seeds. Just a spoonful or two of chia mixed in with your favorite smoothie ingredients can transform it into an even more nutritious treat that's sure to help get you through your morning.
To make a simple, yet satisfying chia smoothie, blend delicious fresh or frozen fruit, like the always-tasty bananas and frozen strawberries combination, into a base of almond milk or plant-based milk alternative for added texture and flavor.
For an extra kick of energy, add a tablespoon or two of organic chia seeds which provide a source of healthy omega-3 fatty acids and additional minerals like calcium and magnesium. If desired, you may also want to sweeten it up with honey or agave syrup.
Blend until all ingredients are fully incorporated and enjoy! Raw chia seeds will put an extra special twist on your favorite healthy smoothie recipes. In addition, you can also soak chia seeds before making a smoothie.
Final Thoughts
If you love chia seeds then adding them to your smoothies is a great way to get the amazing nutritional benefits of these powerhouses in an easy, delicious form. Start with one tablespoon per smoothie and work your way up from there – the perfect balance between nutrition, taste, and texture can be achieved by listening to your body and adjusting accordingly. You'll soon find that trying chia seed recipes just may be one of the best decisions you've ever made!