Nutribullet 900 Pro is a blender we love for its ease of use and size. It fits into your kitchen without taking up much space and can be easily cleaned after use.
In this Nutribullet 900 Pro review, our objective is to help you determine whether it is worth your money or not.
We plan to help you come to this conclusion by reviewing its features, benefits, and drawbacks.
Nutribullet 900 Pro Overview
Nutribullet is a household name in the world of kitchen appliances. And today we will be reviewing their blenders.
They are known and loved for their simple designs. These designs are responsible for benefits like quick prep time and no-hassle cleaning. The company has over 50 million happy customers worldwide.
Key Features of Nutribullet 900 Pro
In this section of the Nutribullet 900 Pro Review we evaluated 6 key features of the blender.
Motor Power
The Nutribullet 900 Pro has motor-powered at 900 watts. This is a strong motor for a single-serve blender, allowing it to handle most ingredients without hassle. The 900 Pro is way better than Nutribullet 600. Check out our latest comparison of the two models.
However, this machine cannot handle frozen ingredients and ice. The blades are weak and may break if subjected to such tedious work. You may end up losing your blender sooner than expected.
Speed
This blender does not have any speed variations. While this enhances its ease of use, it takes away your ability to control the consistency of your smoothie.
It does not come with a pulse feature either. Some customers have found that they can manually imitate the pulse feature by using the machine in short intervals.
However, the blender is designed to completely emulsify its ingredients, so its lack of these features can be justified on that basis.
We appreciate this feature because some people may have a problem with blending their ingredients to a smooth consistency. Knowing that this blender gives nothing but a smooth mix is a plus.
Noise Level
This blender is very loud compared to other blenders. It is not the kind of blender we would advise you to use early in the morning when others are still asleep.
However, it is meant to be used in 1-minute intervals. This should make the noise less disruptive.
One way you could try to slightly reduce the noise level of the blender is to place it on a rubber mat.
Accessories
The Nutribullet's 900 Pro comes with a good number of impressive accessories. We consider this its most significant benefit.
It comes with a 24oz cup with a handled lip ring to complement its 32oz large cup.
Another accessory is the flip-top to-go lid which lets you take your drinks on the go. This would have been helpful when I was actively part of a gym.
The ability to drink your smoothie right out of the blending cup isn't something a lot of blenders can boast about. Which is why it is one of our recommended bullet smoothie maker.
Safety
We consider the Nutribullet 900 Pro safe to use. However, a major safety hazard of this blender is it overheats.
It comes with an internal sensor that automatically shuts it off when it starts overheating.
To avoid the problem of overheating make sure to only run it one minute at a time.
Another safety hazard customers have complained of is the blades may break into the smoothie.
Warranty
The Nutribullet 900 Pro is under a 1-year limited warranty. This may not be the best offer but it is standard for personal blenders. 
If the blender fails or is damaged within the first year of purchase the company will replace the unit for you.
You will have to pay for shipping. However, some customers have complained that Nutribullet offers poor customer service. This means you may have difficulty claiming your warranty.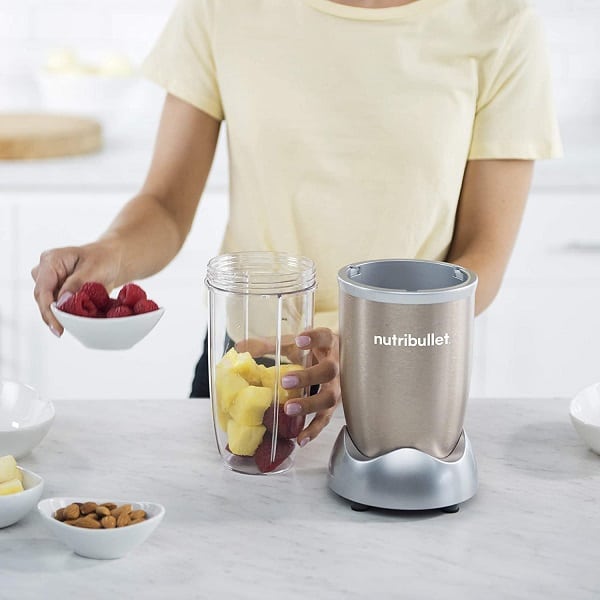 Pros and Cons
PROS
+ Small/ Compact Size.
+ Easy to Use
+ Easy to Clean
+ BPA Free
+ Healthy Recipe Book Included

CONS
– Not Durable
– Weak Blades
– Noisy
– Overheats
– Leaks

Technical Specification
Motor: 900 Watts
Program Setting: Nil
Other Features: Nil
Controls: 1 control button
Dimensions: 7 x 14 × 13 inches
Weight: 7.5lbs
Capacity: 32oz and 24oz
Colors: Berry, Champagne, Cobalt, Coral, Clover, Onyx, Rose Gold, Silver, Sky, Violet, and White
Warranty: 1 year
FAQ on Nutribullet 900 Pro
Where is the Safest Place to Purchase the Nutribullet 900 Pro? 
The best place to purchase the Nutribullet 900 Pro is from the official website. Or from an authorized e-commerce site such as Amazon. 
From our research, we came across several users complaining that they had purchased counterfeit/fake units of this blender. 
They only discovered this after it broke down and they contacted the company to replace/repair it. 
Are there any ingredients that should not go into the blender? 
Yes, there are. Ingredients such as hot coffee and soda should not go into your blender.
They can build up pressure which will damage your blender and even injuries. 
Frozen ingredients and ice should be avoided as well because they can weaken the blades or even break them off.
Can I Interchange my Nutribullet 900 Pro Part with another Nutribullet Product? 
We would not advise you to interchange parts of your Nutribullet products. Each one is made specifically for its model. Interchanging them can increase the degree of wear and tear in them. 
If you need to replace parts of your blender, you can do so on the Nutribullet's Parts & Accessories Page. 
What Do I Need to Register my Blender for Warranty 
To register your product for Nutribullet Warranty you need your warranty registration card or the product serial number. 
The serial number is located under the base of the blender. You will also need your product receipt as evidence of purchase and the seller's name.
Our Verdict:

Recommended!
From this Nutribullet 900 Pro review we've concluded the following:
The Nutribullet 900 Pro is a great blender for making smoothies and milkshakes because it's designed to completely emulsify its content.
Its compact size makes it a perfect fit for people with small kitchens and it is easy to clean.
Check out our NutriBullet review guide where we go through all the best model that they have.