The Vitamix E310 is a highly recommended Vitamix blender with many remarkable features that will help you achieve the results you want with ease. This high-performance blender is sturdy, durable, and easy to use.
In this Vitamix Explorian 310 review, we will be looking at some key features of this high profile blender.
Vitamix E310 Overview
Vitamix is by no means a new name in the blender industry. Over the years, they have made a lot of amazing blenders that have exceeded the expectations of users.
Vitamix was able to rise to the top and remain at the top of the blender industry because the blenders they make are reliable, powerful, and durable.
The Vitamix E310 is a bestselling performance blender with features that will make your life easier. This blender is versatile and can crush even the toughest fruits and vegetables.
Key features of Vitamix E310
In this section of this Vitamix E310 review, we will be exploring some of the main features of this high-performance blender.
Container
Single people and average-sized families will love the container that comes with this blender, as it can make 3 to 4 cups of delicious smoothies at a time.
The 48oz container is made from high-grade BPA free plastic and is very durable.
Storing this container is relatively easy, as it is short and will easily fit into your kitchen cabinet. The blender can comfortably sit under an 18-inch cabinet while on its base.
Unlike many blender containers that become blur after some time, the jar that comes with this blender is ultra-clear and will remain clear even after years of use.
Because the blender isn't very deep, it will be easy for you to scrap out ingredients and wash it manually.
Blades
The E310 blades are made from high-quality stainless steel that can slice and crush even the hardest vegetables and fruits.
Because the blades are of high quality, they will remain in great shape and continue to deliver excellent results even after years of use.
Thanks to the powerful blades in this blender, you can make the perfect smoothie within seconds. The blades can transform whole fruits into ultra-smooth liquid effortlessly.
Hard ingredients like ice and frozen fruits are no match for the blades in this blender, as it can reduce them to tiny bits easily.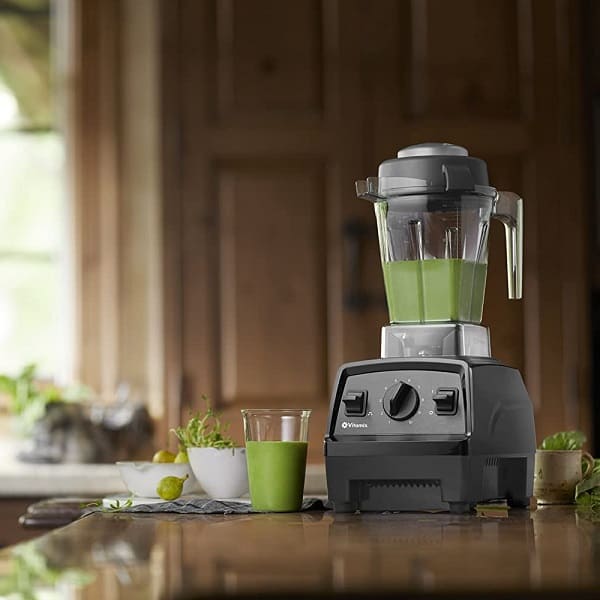 Motor
The Vitamix E310 blender can carry about different blending tasks because it has a powerful motor (2 horsepower motor)
The motor doesn't fall short when it comes to blending tough ingredients like ice, nuts, frozen fruits, and bread dough. It works with the blades to smash and crush raw ingredients to tiny bits.
Living healthy is going to be easier for you if you buy this blender, as it can make ultra-smooth healthy smoothies easily.
other Vitamix blender motors, the E310 motor is durable, and it can last for years without developing a fault or burning out.
Control
Just like other Vitamix blenders, the E310 has 10 variable speeds. It also has a pulse feature that can help users get the consistency they want when working with tough ingredients like ice.
The blender has a knob that can help you choose the speed you want easily.
The ten speeds can help you get the texture you want while working with different ingredients. The low speeds are perfect for chopping and mincing, while the higher speeds are perfect for making smooth textured nut butter and smoothies.
One remarkable thing about the E310 is that it is easy to control. This means that you don't need to be tech-savvy or have a technical background to use it.
Functionality
Smoothies
With this blender, you can make any type of smoothie, knowing that it will turn out great. The blender can transform herbs, fruits, vegetables, and so on to liquid smoothly.
Feel free to add frozen fruits and even ice when making your smoothies, as this blender has a powerful motor and sturdy blade that can crush hard ingredients.
Soup
If you have this blender, you will be able to make hot soup for your family in less than 6 minutes. The blender blades are powerful enough to generate friction and heat up food ingredients.
Dough
Thanks to the pulse feature in this blender, users can work with tough ingredients like bread dough that can ruin regular blenders.
Seeds
Many blenders on the market don't perform very well when it comes to grinding seeds and nuts. The E310 is nothing like them, as it can reduce nuts to nut butter easily.
Pros and Cons
After scouring the internet doing extensive research, we found reviews of persons who were pleased with the performance of this high-performance blender.
PROS
+ The blender comes with a 5-year warranty (Upgradeable).
+ The blender is easy to use and maintain.
+ It has 10 variable speeds.
+ The blender has a low profile container that is easy to store.
+ It comes with sturdy stainless steel blades.

CONS
– The blender is a bit noisy.
– It has no pre-set programs.
– Its 48oz container may be too small for some families.
– The blender has a bulky base.
– It doesn't have a digital display.

Technical Specification
Motor: 2.2 horsepower
Program setting: N/A
Weight: 11.5lbs
Dimension: 11 x 8 x 17 in
Color: Grey, Black, and Red
Blades: 3inch stainless steel
Warrant: 5 years
Capacity: 48oz
Electrical rating: 120 V, 50-60 Hz, 11.5 Amps
Other features: pulse
Controls: 10 variable speeds
FAQ for Vitamix E310
How do I stop the Vitamix E310 from overheating?
To ensure that the motor in the E310 doesn't overheat, the engineers at Vitamix installed a cooling system that protects the motor from overheating. However, if for some reason, the unit starts to overheat, you should turn it off and allow it cool down for at least 45 minutes.
Can the Vitamix E310 perform the functions of a food processor?
Yes, it can. If you have the E310, you may not need to buy a food processor, as the blender can chop and mix vegetables and fruits. Note that the blender doesn't slice.
How can I remove foul odor from my Vitamix E310 blender container?
If your blender container still has an unpleasant smell after washing it several times, you should do the following.
● Pour a 50:50 solution of white vinegar and warm water into your container.
● Let it soak for at least 5 hours.
● Dump the content
● Fill the container with warm water and a few drops of dish soap.
● Blend for 30 seconds and pour the content way.
● Rinse thoroughly and allow to air dry.
What do I do if my Vitamix blender becomes faulty?
Vitamix blenders are made from high-quality materials. That is why they usually last long. However, if your unit becomes faulty or stops working well, you should contact the Vitamix customer care team. You may not have to pay a dime to fix the fault, as most Vitamix blenders are warranty protected.
Our Verdict:

Recommended!
The Vitamix E310 is an affordable blender that can perform a wide range of blending tasks easily. We recommend it to mid-sized families and singles because it is easy to use and can deliver consistent results.
If you are not sure if this blender is for you, you can look at our latest guide to know what is the best Vitamix blender in the market.