Morning, noon, or night smoothies are always a gastronomic delight! And to raise the delightfulness quotient further, here I have some 55 smoothie recipes which not only taste great but are healthy too.
One of the best things about a smoothie is the ease of its preparation. Besides, anyone can make a smoothie with all that's readily available at home.
And, even better is the fact that there's a smoothie for everyone! Vegans, vegetarians, fitness seekers, or just those who want to indulge their taste buds, there's a smoothie for every kind.
And here's a little more information about a healthy smoothie before I share the recipes.
Five Main Ingredients of a Healthy Smoothie
While it's true that a smoothie can be blended with, literally, any natural ingredient, a healthy smoothie will have some basic ingredients that contribute to its healthfulness.
Healthy Smoothie Ingredients
A Protein Source: This could be a dairy or a non-dairy source like milk, yogurt, kefir, tofu, nut butter, and lentils. Whatever be your choice, make sure that it is unsweetened to retain the health factor.
Fibrous Food: Most fruits fit this bill perfectly. Rich in fibers and taste, they are a superb addition to any smoothie.
Vegetable Source: Greens, pumpkin, cauliflower, kale, carrot, or any other veggie that adds to the wholesomeness of the recipe is a great addition.
Seeds: Those who think fats are bad, think again. Seeds like those from flax and chia, are rich in omega-3s and protein and make the smoothie creamier and thicker too.
Nutritional Boost: You could use anything from a protein bar, seeds, energy mix, or just plain oats. But make sure that the addition is free of any artificial colors or sweeteners.
Healthy Smoothie Recipes
Jump to recipes:
A B C D G H I K L M O P R S T W
1. Acai Smoothie Recipe
What about starting this recipe list with high amounts of antioxidants, fibers, and healthy fats? If that sounds like your thing to do, here's an acai smoothie recipe to keep you charged through the day.
1 packet frozen acai purée or acai berries if it's in season
½ cup almond milk
1 cup frozen blueberries
1 frozen banana
½ cup Greek yogurt, or non-dairy yogurt of choice
2 tbsp honey or maple syrup
2. Apple Smoothie Recipe
Nothing can be easier than this apple smoothie recipe. It has just the right flavor of cinnamon, a hint of healthy fats, and almond milk to give it a creamy, lip-smacking base. 
One medium-sized apple
1 cup unsweetened almond milk
2 tablespoons rolled oats
2 tablespoons nut butter
1 teaspoon ground flax seed
1 teaspoon maple syrup
1/4 teaspoon ground cinnamon
If you want to replace apple with applesauce, freeze it overnight before use.
3. Avocado Smoothie Recipe
Nothing makes the smoothie as smooth as does an avocado. The taste is so similar to a vanilla smoothie that if you served it to someone, one would never guess that it's avocado.
So, here's a five-ingredient smoothie with the fruit that will bowl you over.
1/2 of a large avocado
1 1/2 cups cold milk of choice
1 tsp pure vanilla extract
2 tbsp pure maple syrup or stevia to taste
1/8 tsp salt
a scoop of protein powder (optional)
and blend them to a thick consistency to enjoy the avocado smoothie.
4. Banana Smoothie Recipe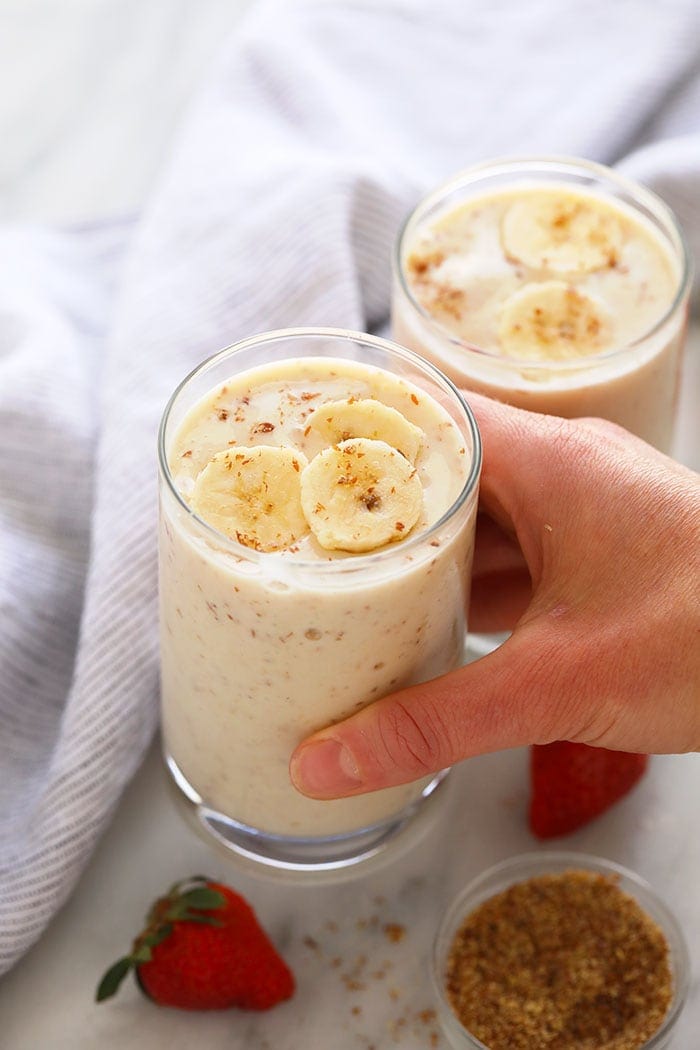 With just 3% fat content, gym lovers and fitness enthusiasts are sure to go bananas over this recipe. The recipe brings together the goodness of banana with the richness of almond milk and the thickness of yogurt. 
2 cups frozen sliced bananas
1/2 cup non-fat plain Greek yogurt
1/2 tablespoon ground flax seeds
1 cup unsweetened plain almond milk
1 teaspoon vanilla extract
5. Beetroot Smoothie Recipe
If you love the bright red color in your smoothie and the antioxidants that the pigment brings with it, just go for this beetroot smoothie recipe. The seven-ingredient recipe includes greens and apple along with the streak of ginger t give you that spicy after-taste.
1 small red beetroot, trimmed and peeled, cooked or uncooked
1 large apple
1 stalk of celery
1 cup carrot juice
1 cup almond milk
2/3 cup frozen sliced peaches
1-inch piece of ginger, peeled and sliced
6. Berry Smoothie Recipe
You have loved and enjoyed the triple sundae. It's now time for the triple berry smoothie. With plenty of options around, you can choose the berries you like. But, this recipe includes strawberries, blackberries, and raspberries with a banana as the base.
1 banana
1 cup of frozen strawberries
1 cup frozen blackberries, and more for garnish (optional)
1 cup frozen raspberries
1 1/4 cup almond milk
1/2 cup Greek yogurt
7. Blackberry Smoothie Recipe
This is a smoothie sans banana. For those, who either don't enjoy bananas or, find their taste and aroma too overpowering, here's a recipe to suit your taste.
3/4 cup frozen blackberries
1/2 cup frozen pineapple chunks
1/2 cup frozen pineapple chunks
1 cup unsweetened almond milk
1 tablespoon honey or maple syrup
8. Blueberry Smoothie Recipe
Shrug off your blues with this blueberry recipe. The wildly popular berries are rich in nutrition and low on calories, thus making it a super-healthy smoothie. 
1 cup blueberries (frozen or fresh)
1 (8 ounces) container plain yogurt
¾ cup 2% reduced-fat milk
honey/maple syrup/natural sweetener
½ teaspoon vanilla extract
⅛ teaspoon ground nutmeg
9. Carrot Smoothie Recipe
In the post-pandemic world, immunity-boosting ingredients enjoy an elevated place. So, here's a recipe with the sweetness of carrot and health quotient of turmeric to keep your immunity levels up.
1 large ripe banana 
1 cup frozen or fresh pineapple
1/2 tbsp fresh 
1/4 tsp ground turmeric 
1/2 cup carrot juice
1 tbsp lemon juice 
1 cup unsweetened almond milk
The zing of ginger and taste of lemon perfectly balances the turmeric and boosts the taste and health in the smoothie.
10. Celery Smoothie Recipe
High in flavors, health, and taste, the celery smoothie will please smoothie lovers of all age groups.
4 medium stalks of celery or 3/4 cup of chopped celery
1 large green apple
1 banana
1/2 teaspoon peeled and grated ginger (from fresh ginger root)
2 cups baby spinach leaves
1/2 cup water
Some ice cubes
1 1/2 tablespoons freshly squeezed lemon juice
Blend them and transfer the smoothie into a mason jar or just a glass mug to enjoy the aroma, color, and taste.
11. Cherry Smoothie Recipe
All it takes is five minutes, and you have a smoothie drink that will please every member of your family. Since it has juices as a component, a banana is a necessary addition to thicken up this drink.
1 1/2 cups juice cherry juice, cran-cherry juice, apple juice, or white grape juice
1 banana cut into pieces
1 1/2 cups frozen dark sweet cherries
3/4 cup vanilla Greek yogurt
fresh cherries and mint sprigs for garnish optional
Blend them and nourish the kid within you.
12. Chia Seeds Smoothie Recipe
High fiber and protein and low calories make the tiny chia seeds among the healthiest addition to your diet. So, here's a smoothie recipe that includes these tiny health packets to rev up your energy levels.
2 cups frozen strawberries
1 banana
1 cup milk of choice
2 tbsp chia seeds
13. Chocolate Smoothie Recipe
Here's a chocolate smoothie recipe for those who believe that health can find its way through indulgence too.
1 cup of water
4 to 5 Medjool dates
1 tablespoon ground flax seeds 
1 tablespoon hemp hearts
1 heaping tablespoon cocoa powder
1 tablespoon almond butter
1 large handful of fresh spinach (optional)
14. Chocolate Banana Recipe
Chocolates and health? Well, yes, chocolates can be swirled into a healthy recipe, and this one is for those who crave chocolate all day and wish they were healthy.
2 ripe bananas
6 ice cubes
1 cup milk
1 ½ tablespoon unsweetened cocoa powder
1 tablespoon peanut butter
15. Chocolate Peanut Butter Smoothie Recipe
Though the recipe above also qualifies for this title, here's a recipe that hinges more on the butter.
Avocado
Almond milk
Ice
Peanut butter
Unsweetened cocoa powder
Vanilla extract
Natural sweetener
16. Coffee Smoothie Recipe
The name is enough to bring the aroma of coffee alive in your memories and make your taste buds tingle for some coffee. To honor all the coffee-lovers, here's a smoothie steeped in coffee.
All you need is the following in a blender, and your coffee smoothie is ready to delight you.
1 tbsp ground coffee un-brewed, don't take instant coffee
1 tbsp peanut butter
1/2 tsp vanilla extract
3/4 cup unsweetened almond milk (or milk of choice)
1/4 cup brewed coffee, chilled
1/2 frozen ripened banana
raw honey
ice, as needed to thicken
17. Cucumber Smoothie Recipe
Nothing can be as hydrating and refreshing as a cucumber on a hot summery afternoon. So, here's a smoothie that combines the freshness of cucumbers with the sweetness of the apple.
Here's all you need to blend:
½ medium cucumber sliced/diced
1 cup spinach or 1 kale
½ large apple
½ cup low-fat yogurt
½ cup of milk, water, or orange juice
½ tbsp. honey or any natural sweetener
18. Detox Smoothie Recipe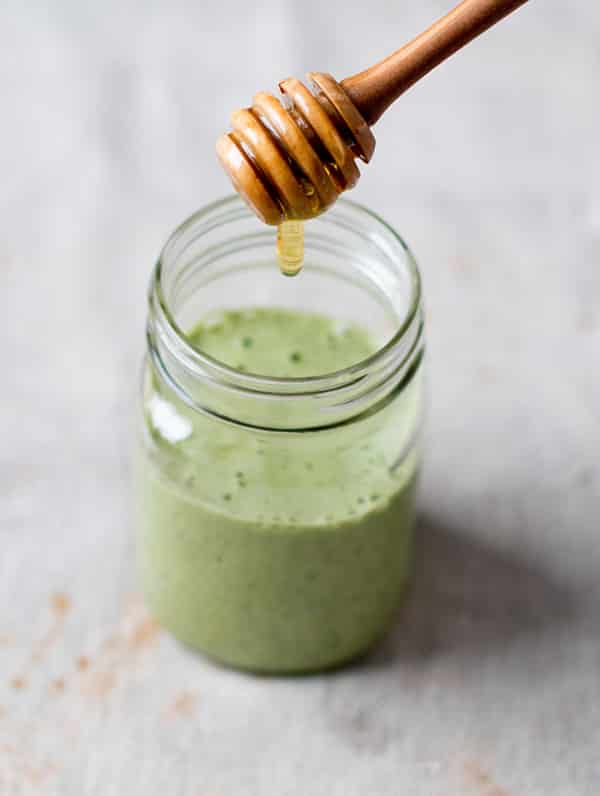 This is a recipe for getting ready for the holiday season or for those who just enjoyed a bit more of gastronomic pleasure during the season. Here's how to detox the smoothie way.
Blend the following to enjoy a detox drink.
1 ripe banana, peeled and frozen
½ cup frozen blueberries
2 tsp ginger, peeled and finely grated
2 cups kale leaves, loosely packed
1 cup unsweetened almond milk
1 tbsp chia seeds (optional)
1/8 tsp ground cinnamon
2 tsp to 1 tablespoon raw honey
19. Dragon Fruit Smoothie Recipe
Dragon fruits have gained popularity in recent years owing to their high nutritional content. Just so that you don't miss out on this great-tasting, wonderful-looking, and healthy fruit, here's a smoothie for all dragon fruit lovers. 
1 cup dragon fruit, cubed and frozen
1 cup mango, cubed and frozen
2 bananas, sliced and frozen
3/4 cup almond milk
2 tablespoons lime juice
1/2 scoop whey protein powder or any nutritional powder of choice (optional)
2-4 ice cubes, if needed
20. Greek Yogurt Smoothie Recipe
This one recipe blends the different tastes of fruits and yogurt and tingles your palate like no other on this list.
1 cup whole frozen strawberries or mixed berries of choice
1 medium ripe banana
¾ cup non-fat plain Greek yogurt
2 tablespoons oatmeal
1 tbsp peanut butter or almond butter
1 to 2 tsp honey
Water or unsweetened almond milk as needed
Blend them in and taste the multi-fruit smoothie.
21. Green Smoothie Recipe
If green juices are not flavorful enough for you, try this green smoothie loaded with greens but masked with flavors of fruits. You are sure going to enjoy this healthful smoothie.
2 cupful of greens, which could include kale, spinach, romaine, bak Choy, collards, swiss chards, or any other green leaves
2 cups of a liquid base such as coconut water, coconut milk, or almond milk
3 cups of ripe fruits that can be banana, mango, berries, avocado, peach, pear, apple, etc
22. Green Tea Smoothie Recipe
Whether you want to cleanse your body or just enjoy the taste of green tea, here's a smoothie that includes the antioxidants from green tea and the nutrition from greens and fruits.
All you need to pulse in a blender is:
Flesh from 1 avocado
2 sweet apples, cored and roughly chopped
½ small zucchini, roughly chopped
½ cup chopped broccoli florets
1 small knob peeled ginger
¼ cup loosely packed parsley
½ juiced lime
2 leaves kale
1 cup brewed and cooled green tea
⅔ cup almond milk (or water)
2 tsp chia seeds (optional)
23. Healthy Smoothie Recipe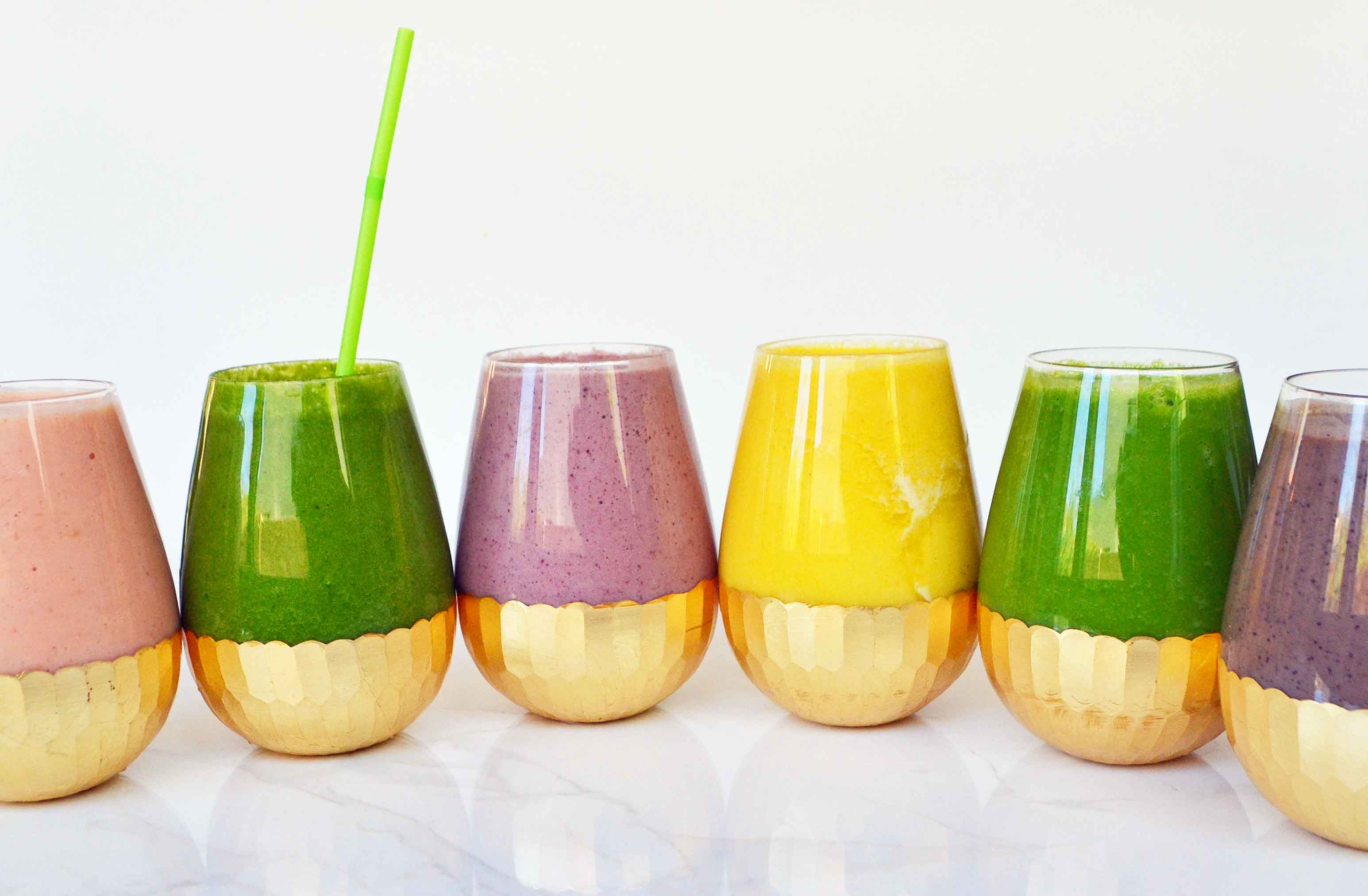 While this list is all about healthy smoothie recipes, this one smoothie packs all the health and immunity-boosting ingredients. Take a look at the lemon turmeric smoothie that helps boost vitality: 
2 cups Water
1 Lemon, squeezed
1/2 teaspoon Ground Turmeric
1/4 teaspoon Ground Ginger
1/8 teaspoon Cayenne Pepper (optional)
1 cup of greens
1/8 teaspoon Cinnamon
1 tsp Stevia or 1 tbsp Honey or Real Maple Syrup
Pulse them in a blender and enjoy the healthy treat.
24. High Fiber Smoothie Recipe
Are you aware that the recommended daily intake (RDI) for fiber is 25g for women and 38g for men? And if you think you are not close to that mark, here's a fiber-rich smoothie to keep your gut in good health.
¾ cup frozen peaches
½ cup yogurt of choice
¼ cup prune Juice
¼ tsp cinnamon
¼ cup rolled oats
Give them a good whirl and enjoy the fiber-rich drink to cleanse your system.
25. Ice Cream Smoothie Recipe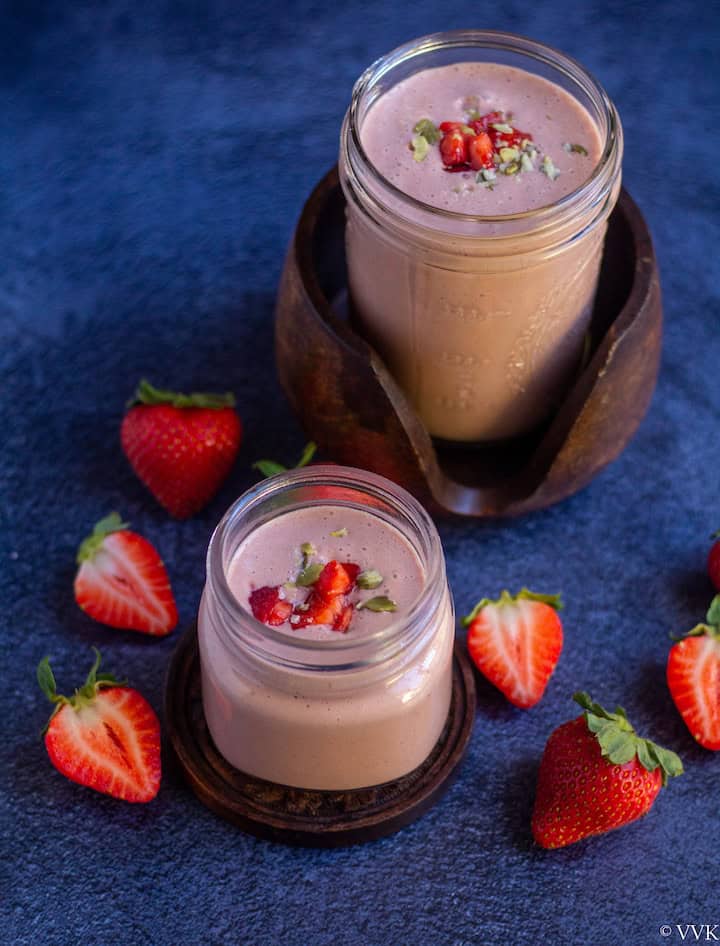 So, want to make a kid-friendly smoothie? Or, just want a dash of indulgence in yours? Here's an ice cream smoothie that brings the rich flavors of ice cream with berries and fruits to give a kick start to your day.
1 cup fresh strawberries
1 banana, sliced
1 ½ cups vanilla ice cream
1 ½ cups ice cubes
½ cup milk
26. Kale Smoothie Recipe
Just wait till you try this recipe, and you'll know that a kale smoothie can be just as tasteful as a fruit smoothie.  
2 cups chopped kale
1 1/2 cups frozen mango chunks
2 Medjool dates, pits removed
2 tablespoons hemp, chia, or flax seeds
Juice from 1 lemon
1/2 inch piece fresh ginger
1-1 1/2 cups water
Blend them and change your perception about kale smoothies.
27. Keto Smoothie Recipe
Those looking to burn fats instead of carbs, here's a keto recipe to appease you all. The oil adds the plant-based fats and nutrients and keeps the gut in good health too.
Here are the ingredients:
1 cup coconut milk or almond milk
1/4 cup blueberries
1 tsp Vanilla Extract
1 tsp MCT Oil or coconut oil
30 g Protein Powder
Blend till they come out smooth and fine like a smoothie.
28. Kiwi Smoothie Recipe
Ever heard of a green smoothie that tingles the taste buds? Well, here's an apple-kiwi green smoothie that's a class apart from the green smoothies you have known.
Here's all you'll need
1 banana, peeled
1 large green apple, cored and chopped (keep the skins for extra fiber)
3 kiwis, peeled and cubed
1 cup unsweetened yogurt
1 cup of water
2 cups spinach
29. Low Carb Smoothie Recipe
If you are struggling to start a healthy diet plan, here's a smoothie, low on carbs, which can give a good start to the diet plan.
Here's what you need for the recipe
1/4 cup heavy whipping cream (or coconut cream for dairy-free)
3/4 cup unsweetened original almond milk (or milk of choice)
2 teaspoons granulated stevia/erythritol blend
4 ounces of frozen strawberries
1/2 cup ice
1/2 teaspoon vanilla extract
30. Low-Fat Smoothie Recipe
Who doesn't want to include low-fat recipes in their diet? Keeping in line with this, here's a smoothie that's high on nutrition and taste and low on fats.
Just pulse these in a blender, and the low-fat smoothie is ready
2 frozen bananas
2 kiwis, peeled
1 cup fresh pineapple chunks
1 cup unsweetened almond milk
2 teaspoons blue spirulina powder
½ cup fresh blueberries
½ small fuji apple, thinly sliced and cut into pieces
31. Mango Smoothie Recipe
Now, who doesn't enjoy mangoes? I bet no one can resist this delectable fruit. Presenting an easy-to-find ingredients smoothie, with mango.
1⁄2 cup mango, diced and frozen
2/3 cup skimmed milk or 2/3 cup soymilk
½ teaspoon sugar or 1/2 teaspoon honey, or more to taste
You can choose to add cinnamon or Greek yogurt for vibrant flavors.
32. Mango Banana Smoothie Recipe
Another one for the mango lovers! Just whirl the below ingredients and enjoy a banana-mango combo like never before. 
1 cup non-fat milk
1 cup greek yogurt
1 ½ cups ice cubes
1 banana (if frozen, leave out some of the ice)
1 mango (about 1 cup chopped)
⅛ cup unsweetened coconut
1 teaspoon vanilla extract
1 tablespoon honey
chia seeds (optional)
Bring them to a uniform, smoothie consistency, and fuel your mango madness.
33. Mango Strawberry Smoothie Recipe
The grittiness of strawberries and smoothness of mangoes is sure to satisfy your palate in more ways than one. With this mango-strawberry smoothie, you can enjoy a healthy breakfast or a snack at any time of the day.
The five ingredients you need are:
2 cups frozen sliced strawberries
1 1/2 cups frozen mango pieces
1/2 cup chopped carrots or baby carrots
1 1/2 cups unsweetened almond milk or milk of choice plus additional as needed
1 tablespoon freshly squeezed lemon juice or 1/4 cup freshly squeezed orange juice (if using orange juice, reduce the amount of almond milk to 1 1/4 cups)
34. Matcha Smoothie Recipe
Why should only tea-lovers have all the fun? Smoothies, too, can have a hint of matcha and yet, taste great. So, here's a recipe to bring the health benefits of matcha in a smoothie.
2 bananas, frozen
1 cup original Almond Breeze Almond Milk
Matcha powder – a few teaspoons to a few tablespoons depending on your matcha and your taste. I used a few tablespoons of this kind.
Vanilla bean – a tiny scrape from about 1-inch of the pod
A few handfuls of ice
Honey, agave, or sweetener of choice (optional)
35. Oatmeal Smoothie Recipe
Here's a recipe that can be a breakfast on-the-go while it also fits the bill of a dessert by the addition of simple ingredients from your kitchen. You can also make it your post-workout drink by pumping up its protein content.
1/4 cup rolled oats
3/4 cup unsweetened vanilla almond milk (or other milk, more to liking)
1/3 cup non-fat plain Greek yogurt (or any other yogurt)
1 cup fresh fruit of choice
36. Orange Smoothie Recipe
This orange smoothie is not just for the orange lovers but for those who want their daily dose of vitamin C in enjoyable packets. Boost your immunity and add vitality with this orange smoothie.
1 large orange, peeled
½ medium banana
1 cup of frozen mango pieces
½ cup almond milk
¼ teaspoon vanilla extract
37. Papaya Smoothie Recipe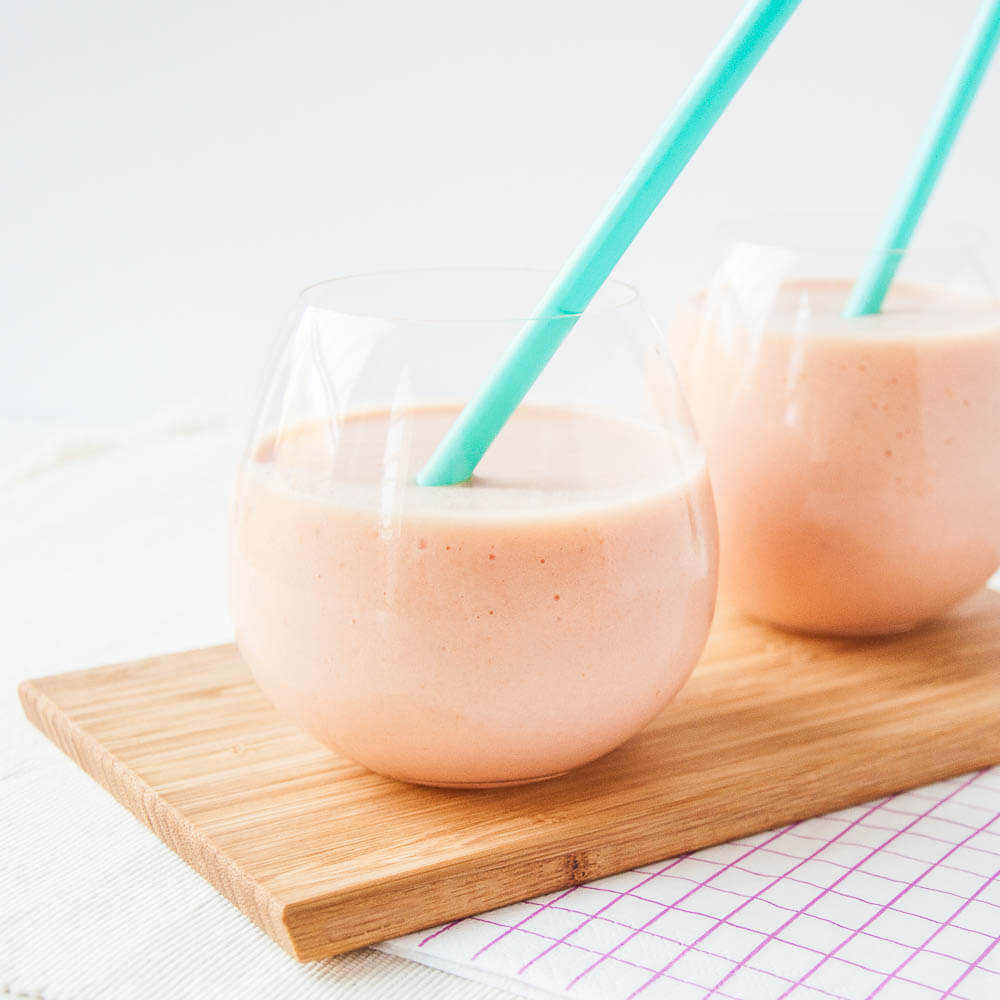 Never thought of papaya as a smoothie fruit? Try this recipe, and you will realize how versatile this fruit is and how well it blends with ingredients of all kinds.
So, here's a recipe to start with,
1 1/2 cups frozen ripe papaya cubes
1 small ripe banana, sliced and frozen
1-2 tsp minced ginger (to taste)
2 medium limes, juiced 
1/2 cup carrot juice
1/2 cup light coconut milk
Any sweetener of choice
38. Peach Smoothie Recipe
A smoothie with easy to find ingredients, and just four of them! So, here's a recipe with the richness of peaches and a few other ingredients.
1 cup peach nectar
6-ounce container Greek peach yogurt
1/2 cup low-fat vanilla frozen yogurt
1 1/2 cups sliced frozen peaches
39. Peanut Butter Smoothie Recipe
I bet this one is a real smooth smoothie! The peanut butter gives it not just the earthy flavor but a smooth texture too.
2 medium (7″ to 7-7/8″ long)s bananas, broken into chunks
2 cups of milk
½ cup peanut butter
2 tablespoons honey, or to taste
2 cups of ice cubes
40. Peanut Butter Banana Smoothie Recipe
Another one for the nut butter fans, but this one comes with the thickness of bananas and goodness of flax seeds.
Here's the recipe
2 cups frozen sliced bananas
1/2 cup non-fat Greek yogurt
1/2 tablespoon ground flax seeds
1 cup unsweetened almond milk
1 teaspoon vanilla extract
2 tablespoons all-natural peanut butter
41. Pear Smoothie Recipe
Only a genuine pear-lover can tell what the sweetness of a ripened pear is like. For all such pear-lovers, here's a smoothie to start your day, or just appease your sweet tooth.
1 cup kefir (or substitute with low-fat plain yogurt)
1 large bartlett pear, cored and cut into large chunks
1 tablespoon raw hemp seeds
1 teaspoon honey
1 teaspoon pure vanilla extract
zest of half a lime
42. Pineapple Smoothie Recipe
If you are looking for a sunny smoothie, yes, you read it right, a truly sunny looking smoothie, this is it.
Let's get the brightest fruit colors into our blender with this pineapple recipe.
1 1/2 cups pineapple juice
1 banana cut in half
1 1/2 cups frozen pineapple chunks
3/4 cup vanilla Greek yogurt
fresh pineapple wedges and mint sprigs for garnish optional
43. Protein Smoothie Recipe
This is a recipe for all those who never miss a chance to gulp some proteins. This is a protein-rich smoothie for all health lovers.
1 banana
1 ¼ cups sliced fresh strawberries
10 almonds whole almonds
2 tablespoons water
1 cup of ice cubes
3 tablespoons protein powder of your choice
One whirl in the blender and the high-protein smoothie is ready to sip.
44. Pumpkin Smoothie Recipe
Why think of pumpkins only at Halloween? They make a good smoothie great. Rich in antioxidants, and potassium, pumpkins are good for all ages.  
So, let's blend the nutrition of pumpkin with this recipe.
1/3 cup pumpkin puree
1 medium banana, frozen
1 tbsp ground flaxseed
1 tbsp honey
1/4 tsp pumpkin pie spice
1/4 tsp cinnamon
1 cup of vanilla soy milk
45. Raspberry Smoothie Recipe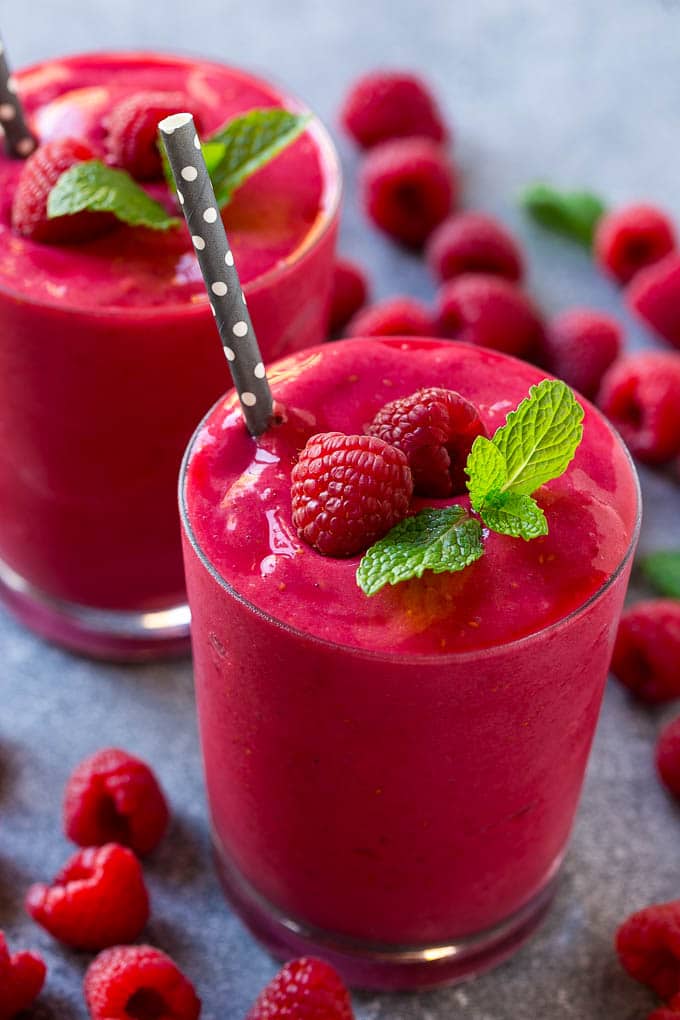 How about a shot of fiber, vitamins, minerals, and antioxidants, first thing in the morning? Well, for those who are up for it, here's a raspberry smoothie to give your day that electric start. 
Just toss these into a blender to make a quick raspberry smoothie, and you are done!
1 1/2 cups apple juice
1 banana
1 1/2 cups frozen raspberries
3/4 cup vanilla Greek yogurt
1 tablespoon honey
Fresh raspberries and mint sprigs for garnish optional
46. Smoothie Bowl Recipe
In the hullabaloo of life, nothing's more precious than time. This smoothie will be ready in 5 minutes whether you want it for breakfast, dessert, or a snack.
Here's what you need to blend to get your smoothie bowl
1 heaping cup frozen mixed berries
1 small ripe banana sliced and frozen
2-3 tbsp light coconut or almond milk, more if needed
1 scoop plain or vanilla protein powder of choice (optional)
47. Spinach Smoothie Recipe
This is a recipe for both spinach-lovers and haters alike.
1/2 to 1 cup spinach, fresh or frozen
1/2 ripe banana, peeled (fresh, or previously frozen chunks)
1/2 cup pineapple chunks, fresh or frozen
1/2 cup mango chunks, fresh or frozen
1/2 cup strawberries, or any berry, fresh or frozen
1/2 cup milk, dairy or non-dairy
1/2 teaspoon vanilla extract, optional
Natural sweetener to taste, if needed
Throw them in a blender and blend them to get the spinach smoothie that will make you want to have it again.
48. Strawberry Smoothie Recipe
The simplest of all strawberry recipes, this smoothie contains just three ingredients and yet, is high on taste and the goodness of strawberries.
These are all the ingredients you need,
3 cups frozen strawberries
1 1/2 cups milk, any variety
1/3 cup strawberry jam
to blend to enjoy this basic smoothie ready.
49. Strawberry Banana Smoothie Recipe
Delicious, healthy, loaded with antioxidants and potassium, this smoothie is a great mood uplifter.
Here's what you'll need,
8 strawberries
1 frozen Banana
Any natural sweetener of your choice to taste
Milk – 1 cup
to blend to enjoy a healthy start to the day.
50. Strawberry, Blueberry Smoothie Recipe
Another ultra-simple smoothie with minimal ingredients and loaded with the berry benefits, this is an all-time hit with smoothie lovers of all ages.
1/2 cup skim milk
1/2 cup blueberries fresh or frozen
1 cup strawberries fresh or frozen
6 ounces non-fat vanilla yogurt
Blend and enjoy a snack, dessert, or a smoothie!
51. Tofu Smoothie Recipe
A recipe that would delight every vegan, this tofu smoothie blends the nut butter with fruits and tofu to make it a complete meal.
Just give these a pulse in the blender and enjoy a good smoothie.
1 lb/450g tofu
1 cup frozen cherries
1 cup frozen blueberries
1 tbsp pineapples
1 tbsp salted peanut butter, or add a pinch of salt
52. Tropical Smoothie Recipe
Invite the tropical flavors into your home with this smoothie. It can be made with some of the most-easily available fruits around you.
All you need to blend is
1 medium banana
3/4 cup chopped mangoes – frozen or fresh
3/4 cup chopped pineapple – frozen or fresh
1 cup chopped papaya
1/2 cup vegan yogurt or any flavored yogurt
3/4 cup coconut milk (cold)
53. Turmeric Smoothie Recipe
Boost your life-forces and immunity with this turmeric smoothie.
A great way to stay healthy, you need is
1 frozen ripe banana, broken into chunks
½ to 1 cup dairy-free unsweetened coconut milk
2 tablespoons full-fat coconut milk
¼ to ½ teaspoon vanilla extract
½ teaspoon ground turmeric
⅛ teaspoon ground ginger
⅛ teaspoon ground cinnamon
Pinch of salt
Pinch of black pepper
3 to 5 drops pure stevia or your favorite sweetener, to taste
54. Watermelon Smoothie Recipe
If keeping things simple is the motto of your life, this is the smoothie for you.
With just two ingredients, it can't get easier than this.
About 2 pounds seedless watermelon
1 cup milk, vegan/dairy
1/2 cup vanilla yogurt
3 tbsp maple syrup, if needed
Garnish: 2 sprigs mint
Garnish: 2 small wedges of fresh watermelon
55. Weight Loss Smoothie Recipe
And, finally, something for those on a diet and craving some flavorsome drink.
Here are the ingredients of a smoothie that boosts your metabolism and aids weight loss.
1/2 cup strongly brewed green tea
1/4 cup coconut milk canned, full fat
2 cups spinach fresh or frozen
1 green banana, peeled and frozen
1 grapefruit peeled, frozen
1 cup pineapple chopped, frozen
4-5 pieces of ice
10 grams of whey protein isolate
And that's the end of the list. If you still need more smoothie recipes, drop us a message and we will come back to you with those.
Till then, happy smoothie-ing!